Gloup 500ml Bottle
Gloup 500ml Bottle
£19.99
Suitable for vegetarians.  Gluten free.
Once opened, lasts 60 days.
Ingredients:
Aqua, Carrageenan, Maltodextrine, Potassium Sorbate, Sucrose, Calcium Chloride, Citric Acid, Colouring, Flavour.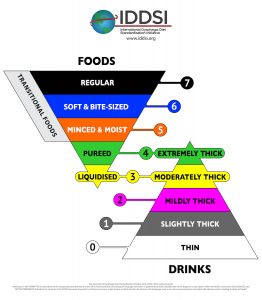 Gloup Original is IDDSI level 3 www.iddis.org
Additional information
| | |
| --- | --- |
| Flavour | Strawberry & Banana |
---
WATCH THE INSTRUCTIONAL VIDEO
---
Description
Gloup makes tablets, capsules and vitamins easier to swallow for everyone.
Gloup® is the first purpose designed medication lubricant that makes the intake of oral tablets and medication a more pleasant and safer experience for the patient.
Many patients have difficulty with, or simply don't like, swallowing their medications. As a result, they either avoid taking their medication, or alter the medication by crushing or splitting it, which can result in:
A change in therapeutic effect
Increased risk of side effects
When patients alter (crush or split) medication, they also often mix with substances such as yoghurt, fruit puree, jam, or thickened fluids. None of these substances have been designed for use with medications and can impact the efficacy, side effect profile and absorption of the drug.
Gloup can be used by anyone who struggles to swallow solid medicines, vitamins and/or nutritional supplements.
Gloup can be used in most circumstances and has no known interactions with existing medicines
Gloup does not contain gluten or gelatine and is free from allergens
Gloup is suitable for vegetarians
Gloup is not suitable for infants less than 2 years old
New Sugar Free version coming soon.
Helping with medication for Dementia
Care Home Manager
What a fantastic product! This is the predicament we were in, I have a resident with Dementia and she has swallowing difficulties and as a result she had been spitting out her medication. I had been back to the GP twice to ask for her medication to be provided in liquid form to be told that it was too expensive but he gave us permission to crush her medication. As you can imagine taking 5 tablets every morning as a crushed powder tasted horrible and she would spit it out just like the tablets. We had started to mix it with jam to make it more palatable but she was having none of it and we were concerned that she would be having 5 teaspoons of sugar every day!. Luckily a colleague and I went to the Care Show at the NEC and found Gloup on one of the stands, we tried it and it works!! After we ran out, we searched the internet and found that you stocked it and I ordered 5 tubes straight away. It's great as we keep the tablets whole and the resident now receives her medication properly and is therefore a lot happier"
'We are loving the new larger bottle with the dispensing pump. The staff have said that there is less wastage and easier to use as it can put it over each tablet a lot easier than the tubes'
Great for dyspraxia
Mother and Son
My Son has autism and dyspraxia, he really struggles with tablets.  He is 11 years old and is now prescribed with tablets as they are the cheaper option.  We have been using Gloup and it has been great to work with as his tablets slide down with no complaints anymore.  Would highly recommend it.
Really helped
Male/56/No Medical Issues
I normally struggle with non-coated tablets and used Gloup on cheap paracetamol.  Swallowed perfectly, which would not occur with water.
Disliked bitter tasting residue from tablets when swallowing with water.
No residue on the tongue at all after using Gloup.
Very helpful
Female/52/No Medical Issues
For many years I have struggled with the sensation of large tablets and pills, the taste and sensation can be really off putting.  I tried Gloup at an evaluation session I was invited to and found the product to be very helpful.
No problem swallowing when taken with Gloup, the tablets were swallowed at first time of trying.