Do you have patients that have difficulty in swallowing?
Difficulty in swallowing medication can affect a wide range of patients both young and old. There are a wide range of reasons that people struggle with solid medication with no real solution to the problem.
Gloup is a solution-inspired product, specifically designed for people with Dysphagia.
Gloup has been designed specifically as a medical aid for swallowing medication, it has no known interactions with medication and does not impair the release rate of medication.
As increasing numbers of the population take medication on a regular basis, instances of Dysphagia are increasing, resulting in physical, emotional and time pressure on both patients and caregivers.
Gloup provides a much-needed solution to caregivers and other professionals providing support to individuals with Dysphagia. It eliminates the discomfort, apprehension and tension that is associated with swallowing tablets for someone with Dysphagia. Gloup provides a day-to-day solution to lengthy negotiations with patients and reassurance to all involved.
Gloup is a medical tool that has been designed in response to a growing need for support to caregivers in providing medicine to patients. Gloup is:
Safe as water – doesn't interfere with medication
Solution inspired- meeting an existing need
Has a pleasant taste – encourages regular use and effective medication consumption
---
How does it work?
The two main components of Gloup are Carrageenan and Maltodextrin.
Together they make sure that the bolus stays together in the mouth of the patient, allowing it be swallowed as one, in other words the bolus will not fall apart in the mouth.
These two components also make the bolus slippery, which leads to an easy transportation of the medication from the mouth to the stomach, this will decrease the chance of the bolus staying in the oesophagus for too long.
Another ingredient of Gloup is Citric Acid, this will help the patient (as we know most patients that have swallowing difficulties have dry mouth problems) activate the saliva glands to produce saliva. Based on the below tests done at the University of Brisbane, we can state that the intake of medication with Gloup is as safe as the intake with water. There are no known interactions between the medication taken and Gloup.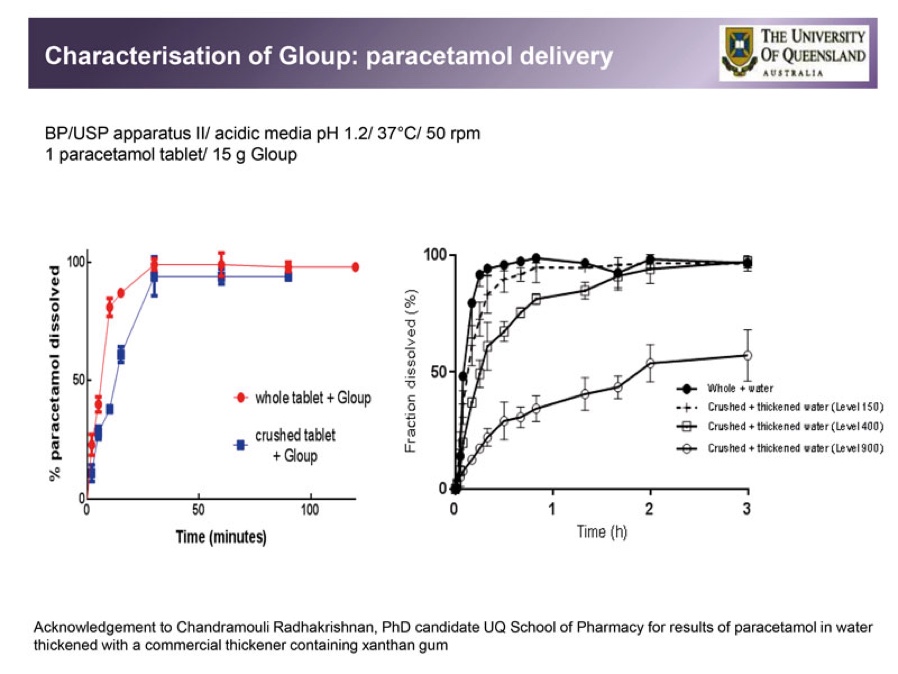 Click to magnify
---
Dysphagia and Medication
Dysphagia is the medical term to describe difficulty in swallowing.
For clinical purposes, dysphagia can be classified into two distinct categories:
oropharyngeal dysphagia

, and

oesophageal dysphagia

.

Oropharyngeal dysphagia is the inability to initiate the act of swallowing. It is a 'transfer problem' due to impaired ability to transfer food from the mouth to the upper oesophagus. On the other hand, oesophageal dysphagia is a 'transport problem' and is defined as the sensation of difficult passage of solids from the mouth to the stomach.*

Dysphagia, as with all medical conditions, is characterised by a spectrum of severity. Some patients may only experience slight discomfort or difficulty swallowing, while others experience severe difficulty and require the assistance of a Doctor or Speech Therapist to advise of the most appropriate treatment to manage their condition.

For a lot of people experiencing swallowing difficulties, the intake of medications can be particularly challenging. Tablets and vitamins are often large, powdery, and don't taste particularly nice. As a result, they can be extra difficult to swallow. In addition, many medications should not be crushed or split as this can alter the affect they have on the body, sometimes with dangerous side effects.
Using a purpose designed medication lubricant such as Gloup may make tablets and vitamins easier to swallow.
Gloup was developed in a scientific environment for this problem
Gloup has no known interactions with medication
Gloup is suitable for anyone from 2yrs and upwards
Gloup is suitable for vegetarians
New Sugar Free version coming soon.
New Thicker ISDDI level 4 version coming December 2018
*Aging and the Gastrointestinal Tract, Volume 32; Volume 2003 edited by Alberto Pilotto, Peter Malfertheiner, Peter R. Holt
---
Clinical Articles
The articles below add further information and evidence as to why a product such as Gloup should be used when problems occur when taking solid medication.